Attention students, after Feburary 1st, 2021, the Coding Bootcamp Prep course and the Programming 101 will be shut down. After this date, you will no longer be able to access the course material or the website. Thank you for all of your support in the past. It has been a pleasure teaching all of you. If you have questions or would like reocmmendations on how to continue your programming journey, please reach out at [email protected].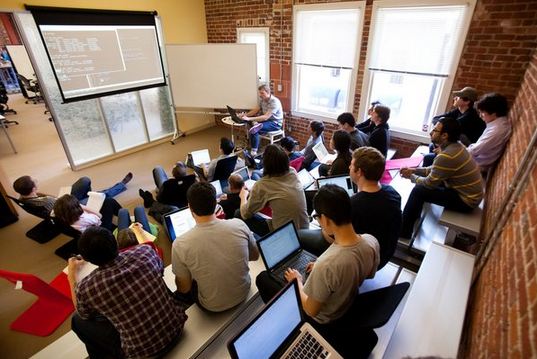 Since I started helping people get admitted to coding bootcamps, I've seen the same two questions come up over and over again:
"Will attending a bootcamp make me a developer?" "Will I get a job after I graduate?"
When you say it out loud, coding bootcamps like App Academy, Flatiron School, and Fullstack Academy all sound too good to be true. Their promise: spend 3 months with us learning to code and get a job that pays an average of $89K+ a year. The promise made by bootcamps is completely insane. On top of that, many bootcamps have shut down over the last year, and there's a large amount of literature out there slamming the bootcamp graduate.
I got my start as a developer by attending App Academy at the age of 26 and have been working as a developer at a fast growing startup called Teachable ever since. To help you answer the questions of "Will attending a bootcamp make me a developer?" and "Will I get a job after I graduate?", I'm going to give you my first hand experience of my time at and after App Academy.
Previous Programming Knowledge
I had no programming or computer science knowledge before I started preparing for my technical interview to App Academy. App Academy teaches Ruby and JavaScript. When I started preparing for my technical interview, I didn't even know how to save a Ruby or JavaScript file.
It's a common misconception that you must have some programming experience or a CS degree to succeed at a coding bootcamp. Some programs are more difficult than others and previous experience helps. But for many, you don't need any prior experience. You'll learn everything you need by preparing for your interview, doing the prep work, and attending the classes. You may have to work harder than others in your class, but it's definitely possible.

A Passion for Coding . . . . It Took Some Time
When I applied to App Academy, I didn't have a deep need to code. I'd never coded before; so, I didn't know that I liked programming. Also, many people get into coding because they like playing video games; that wasn't me either. I'm not a huge gamer.
I did have a dream to work for a startup and eventually start my own company later on in life. In my search to find the right startup, I noticed that many of the companies I wanted to work at often had roles open for their engineering team. Thus, it dawned on me that programming might be a useful skill to have.
It wasn't until I was preparing for my technical interview to App Academy that I started to think that I might like coding. I was following a curriculum similar to Coding Bootcamp Prep, and as I struggled to understand how the code worked and write algorithms, I found myself having fun and began to realized that I liked programming.
What I Gained From a Bootcamp
Attending App Academy definitely gave me the tools I needed to switch careers and become a developer. In programming, there is a lot out there and it's hard to know where to start. The beauty of a bootcamp is that it gives you a roadmap the information you need to know to meet the minimum bar as a developer. It's true that you could learn everything that you would learn at a bootcamp on your own, but you pay a bootcamp to streamline the process and make sure you are learning the right things. If you want to make web apps, then you don't want to spend your time learning Python, which is used for data analysis.
I also found my instructors and classmates extremely helpful. When you get stuck on a concept, it helps to have someone to ask questions to, and being surrounded by people also learning to code provides a sense of camaraderie that you wouldn't otherwise have.
What I Didn't Get From a Bootcamp

At a bootcamp, you're going to be hit with new information everyday. One minute, I'm learning how to make console games; the next, I'm learning about SQL and databases. App Academy and other bootcamps will give you all of the information that you need to learn to become an entry-level developer. However, they will not sit there and make sure you 100% understand the material. Some bootcamps have tests that you have to pass to stay in the program, but if you're having trouble with the material, it's up to you to ask for help. I used to spend no less than 12 hours a day, 7 days a week, at App Academy working on exercises and studying the material.
You also won't get any form of certification from your bootcamp after you graduate. No one is going to hire you just because you graduated from a bootcamp. You'll get hired based upon your skills as a developer, your personality, and your projects.
Did I Get a Job
Yes, I did end up with a job in my desired salary range. It took me 2.5 months after I graduated to accept an offer as a fullstack developer at my current company. I was not the first one in my group to get an offer. One member of my class accepted an offer 2 weeks after we graduated. I was also not the last. Some people took an entire years to job hunt.
The job hunt was less intense than the bootcamp, but I continued to put in at least 8 hours a day, 7 days a week. This time was spent meeting with people for coffee, sending out applications, and working on projects.

Will Attending a Bootcamp Make You a Developer
By the end of my bootcamp, I had the skills I needed to get a job as an entry-level developer, but I don't think it's fair to say that my bootcamp made me a developer. Bootcamps can't make you a developer. They can only give you information. It's up to you to effectively learn and use it to create awesome stuff.
---
Want bootcamp information? Sign up for our mailing list.
Please enter your first name
Please enter a valid email
---
This article was written as part of the Coding Bootcamp Prep course. The course is dedicated to providing people of all skill levels the knowledge they need to get admitted to the country's top coding bootcamps.